Do-It-Yourself Window Tinting
---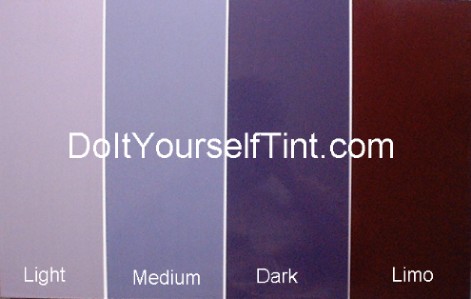 Many of the most common questions and concerns are addressed in our FAQ page.
Now You Can Tint Your Own Windows
If you have a do-it-yourself mentality and some patience, you have what it takes to do your own Window Tinting. The Do-it-yourself Store has all the tools and instructions needed to make window tinting for your car or home as easy as possible.

If you're going to take the time necessary to do a professional job, you should use the same quality materials that a Tinting professional would use. At DoItYourselfStore.com you can get the exact same professional quality Metalized film that professionals use for that long lasting tint job.

I've never tinted before, is it difficult?
Window Tinting for homes is a little more difficult than wall paper hanging. Auto window tinting is more difficult than homes.

With window tinting kits from the DoItYourselfStore most anyone can expect decent results. A good do-it-yourselfer can expect professional looking results.

How do I get the film to lay flat on a curved window?
Most of todays rear car windows have a compound curve causing the film to want to wrinkle instead of laying flat.
There are a few techniques for getting the film to lay.
First-you can heat shrink the film. You will need any common heat gun. By applying heat to the wrinkles and rubbing them down with your free hand you can get most windows to lay in one whole piece. You should watch a video on this technique to perform it properly.
Second-You can do the window in multible pieces. Either cut straight strips or cut strips that follow the defroster lines. Apply the strips on the inside of the window overlapping a defroster, cutting along the defroster and then removing the excess. If hide the seams behind a defroster well enough it gives the appearance of ONE piece.
Third-you can cut relief cuts, similar to cutting a seam but, you are only cutting along a defroster far enough to get the wrinkle out. warning never cut through a defroster as it will lose it's connection and no longer work.


Window Tinting Kits

With our Kit, do it yourself window tinting has never been easier! You can tint windows like a pro!! We provide you with all the professional tools needed to do the job right. Our kits cover car window tinting as well as home window tinting. If you would like to have your patterns precut by computer visit DoItYourselfTint.com .



Window Tinting Video


The Do It Yourself Store has 2 videos available the first covers auto window tinting the other covers home window tinting. We recommend that you buy a common heat gun if you would like to use heat shrinking as a technique for curved windows. Our video is made with the do it yourselfer in mind. Unlike most videos that are made for the professional, our videos gives you tips and tricks to avoid and fix mistakes that most do-it-yourselfers make. Our video covers heat shrinking, so you can do those rear windows in one piece!! We also cover some helpful techniques if you don't get the window film shrunk quite enough.



Our kits take the worry away


What do you do when you mess up a cut?
Do you throw the film away?
Not if you've seen our video!! You don't have to have the experience of a professional to get the professional look!
Our video will teach you how to cover up most mistakes.

If you would like more information on Window Tinting visit our FAQ page. To purchase this product as well as other do-it-yourself products visit our store look under car window tint. We also have a tint removal page for information on removing old film.
Please email with any questions you still have support@thedoityourselfstore.com Most emails are returned within 24 hours